Keris Mint 8 Dirham Silver Bar
Price
Bank Transfer
RM 188.00
Credit Card
RM 194.77

Condition: Bullion Quality
Product Description
Keris Mint 8 Dirham Silver Bar

New product promotion: Key in KERIS888 during checkout and we will ship free!* Minimum purchase of 1 Keris 8 Dirham and entire order will be shipped for free.

---
This is an elegantly designed Keris motived dirham. Weighing specifically 23.8gram, each Keris Mint 8 Dirham is examined and guaranteed by credible assayer to for its the weight and silver purity.
One of the finest available 3D dirham made in Malaysia today, this 8 Dirham is uniquely designed in a sophisticated bar encapsulated in a specifically designed interlocking stacking bar to provide easy, neat and practical storage.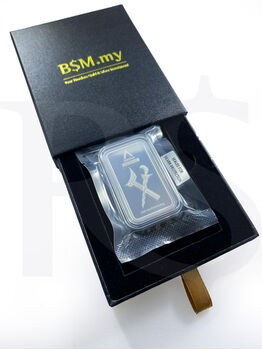 To further ensure the security, every certificate is recorded with unique serial number and digital signature. Using your latest smartphone, you can scan the QR code on the certificate for an immediate real-time authenticity verification. When put under purple UV light, the certificate background will luminate, revealing the hidden 'KM' background which represent the initial of Keris Mint.
Featuring a songket motive at the back of the dirham is a Keris Mint micro engraving lettering.
Dirham Specification:
Keris Mint 8 Dirham with stacking capsule
Weight: 23.8 gram
Dimension of Dirham: 50mm x 29mm
Fineness: 999 Silver